Hosted by Decor + Design for the the past two decades, VIVID Emerging Designer Awards has become one of the leading platforms for new design talent in Australia. Standing for 'Vibrant Visions in Design', it has featured a constellation of design stars brighter than any Sydney light show.
The 2023 awards program was no exception, showcasing a raft of impressive talent at the Melbourne Exhibition Centre. Adelaide-based designer and ceramicist Yuro Cuchor took out both the Lighting and Colour Award categories with his exceptional lamp Seventease.
A Contemporary Classic
With a title and design aesthetic that plays on the nostalgia of the 1970s, the lamp is designed to have levels added at the discretion of the buyer. It can be a table lamp or levels can be stacked on top to transform it into a standing floor lamp.
The shape's inspiration springs from an unlikely source – chewing gum or 'chewies' as Yuro calls them. The soft, round shapes are balanced by the acrylic and brass supporting sections of the lamp. It perfectly illustrates Yuro's practice of experimenting with materials that do not usually belong together.
"I am intensely passionate in regard to experimenting with contemporary materials in diverse geometrical forms, incorporating mutable lighting to produce colour and movement," says Yuro.

"Configuring in manifold ways to create an enhanced perspective has always fascinated and challenged me. Ultimately, my aim is to engender an aesthetic effect that is truly unique."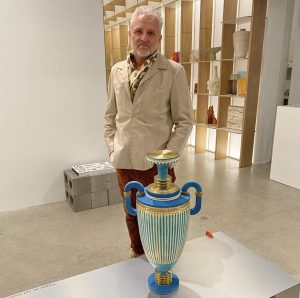 Born in Slovakia, Yuro (left) came to Australia in 2006 and has made Adelaide his home. Having studied Ceramics & Stone Restoration in Slovakia, he later studied Visual Art at the South Australian School of Art – University of South Australia, majoring in Painting & Sculpture.
He later started to collaborate with the JamFactory and between 2019-2020 he had his ceramic studio there. He is now based at the 215MAGILL Studio Adelaide.
Early in his career, he was inspired by the Slovakian artist Milan Dobes, who experimented with kinetic and light objects in painting and sculpting to celebrate movement and changing colours. It's something that Yuro has incorporated into his own work.
"I am always interested in things that change and move. I like creating objects that can be used every day but for me there is no separation between art and design."
The Seventease lamp echoes this approach, with the 'chewing gum' pieces designed to be rotated, so that the colours can shift. In Yuro's world, nothing is ever static. Another example is the REVERTERE Table Lamp featured in the top image of this article.
Experimenting with the Unexpected
Yuro's talent at marrying unexpected materials has led to some truly exceptional pieces of design. "Many ceramicists are purists…everything must come from Mother Earth. For me, I like to meld the manmade with the natural."
This duality is reflected in the seemingly paradoxical nature of Yuro's aesthetic, which veers between the two extremes of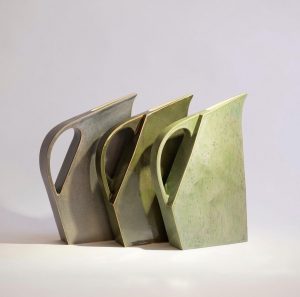 minimalist and maximalist. While the Seventease lamp taps into the latter, his ZUZA jug (right) is as sleek and minimalist as they come. It was Yuro's first VIVID-winning piece, taking out the Object Design category in 2020.
ZUZA has been a highly successful piece for the artist, which Yuro says is a mixed blessing.
"I make everything myself by hand. I am too much of a perfectionist to outsource anything! It can take me a long time to make something, not just because the process itself is drawn out. I am very pedantic, so if it is not exactly the way I want it, I will smash it and do it again. So, I am making a lot of these jugs!"
Yuro is regularly invited to take part in exhibitions around Australia. In 2023, Craft Victoria asked 20 ceramicists to respond to the brief of 'Modern Amphora,' for which he created the exquisite piece RAZ (left).
"From the beginning the idea was very clear, to create an elaborate and "over the top" object by combining different materials and challenging my skills at the same time."
Celebrating the skills of designers like Yuro Cuchor and bringing them to the wider attention of the Australian design community is a privilege for Decor + Design. Go to Yuro's instagram or contact him here for more information on his work.
The 21st edition of VIVID Emerging Designer Awards will take place at Decor + Design at the Melbourne Exhibition Centre from 17 – 19 July 2024. Entries will open in early 2024, subscribe now to stay in the loop.