A gorgeous rug can be both the foundation and focal point of a room. Which is why we can't wait to see what Australian rug house Tribe Home will be exhibiting at Decor + Design this year!
The annual trade show in Melbourne has become a mecca for interior designers and retailers on a quest for customisable, high-quality products for both private homes and commercial projects.
Co-located with the Australian International Furniture Fair (AIFF) at the Melbourne Exhibition Centre from 18 – 21 July, this year's show will feature 500+ leading brands.
Returning exhibitors Tribe Home have previously impressed trade visitors with their stunning range. The design-focused business is committed to sourcing beautiful rugs and homewares with a social conscience. Their hand-crafted rugs are carefully sourced from countries including Afghanistan, India, Pakistan, Iran and the Middle East.
With Decor + Design imminent, we asked the Tribe Home team to take us behind the scenes of their thriving retail and wholesale business…
We're looking forward to seeing your stand this year at Decor + Design! First off, what have the highlights been of the last year for Tribe Home?
It's been an incredibly exciting twelve months for Tribe Home! We've worked hard to bring rugs of intelligence and worldliness to the Australian design industry. It's taken a full year diligently sourcing collections which are moody, sophisticated and theatrical.
Amongst this, we've relocated to a larger and improved warehouse, office and showroom space. We've expanded our resources in head office to improve the experience for our valued clients. And pushed ourselves outside the parameters further in the way we think and operate, to offer a unique experience for our customers.
The theme of the Australian House & Garden International Seminar Series at Decor + Design in 2019 is 'Global Village'. How much attention do the Tribe Home team pay to global trends?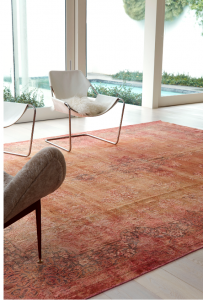 Without a doubt it's exciting to know what the upcoming trends for the year ahead are. We love visiting the bustling halls of trade shows both here and overseas and to see where design is headed for the coming months. In our industry it is important to be aware of what will be in fashion for the interior design world even 3 years ahead.
We are loving the "Global Village" theme this year as it incorporates new communities from around the world making beautiful design together.
As far as following trends to the letter we are more about creating design classics that stand the test of time. However, in saying that, we may borrow an element be it a pattern or colour for example from what is forecast and incorporate that into our collections somehow.
In carpets and rugs, we are seeing a return to more traditional patterns. There is an emphasis on luxury and custom-made.
Entrance ways that were once overlooked are now areas that set the tone of a home and so clients are wanting to make an entry as luxurious as their bedroom or living areas.
People are paying more attention to the size of a rug and what to make sure it fits their space properly. The larger the rug the better. All rooms are different and so sometimes standard sizes just won't do…so customers are going custom!
This way they have the opportunity to experience a rug that is made especially for them. They view it as an investment that they will have for a long time, like our Knots collection that we are launching at D+D.
Over-dyed and vintage rugs are having their day in the limelight. Even though there are lots of machine-made rugs recreating the look, there is nothing like the real thing. We have sourced and hand-picked the best for our customers, who are loving the idea of something that is recycled, full of history, characterful, dramatic and really makes an impact on a room. Again, having something unique and one of a kind is also appealing.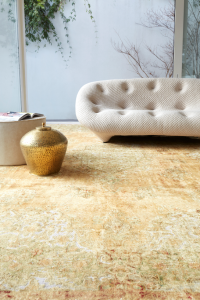 Can you give us a snapshot of the design and production process for your team?
The design and production journey of each rug is followed diligently and thoughtfully via all steps from our Creative Director through to our master weavers.
Our programmed contemporary rugs are carefully designed with unique colourways and motifs in mind, then our authentic Persian rugs are sourced in the Middle East and can be up to 80 years old.
They are recovered and stripped back through a salt washing process, then carefully hand-knotted and overdyed to reflect a traditionally modern feature.
What keeps you coming back to exhibit at Decor + Design?
The detailed craftsmanship of our pieces is best experienced in person. Decor and Design gives us the opportunity to present to all our valued interior designers and industry experts the chance to experience our unique pieces on a large scale in one space.
 Tribe Home will once again be a much-anticipated exhibitor at Decor + Design in Melbourne, July 18 – 21. What can trade visitors expect to see from you this year?
We're looking forward to introducing the design industry to our 19/20 irreplaceable rug collection we've been hand selecting over the last year.
We've discovered it's important for interior designers and industry experts to have a superior edge, so we've sourced an exclusive collection of rug masterpieces to infuse a unique touch in to each project.
The beauty of this multi-dimensional collection is that it consists of one of a kind original Persian rugs which are rare to the market. And a tailored custom program which is made up of hand-knotted pieces that take 4-5 months for one weaver to craft.
In line with building this handpicked collection, we've crafted a hard cover Tribe Home catalogue, Vol. 1. Its bold black sleek finish holds the full library of our imagery which we're very proud of.
Don't miss seeing Tribe Home's new collections and catalogue at Stand E8 of Decor + Design, 18 – 21 July at Melbourne Exhibition Centre. Trade entry to the exhibition is free, register now to experience products from around the globe.