Furniture brand James Stewart has become a favourite of Australian consumers with an eye for quality leather and timeless design.
We're delighted that the Queensland-based brand will be exhibiting at Decor + Design at the Melbourne Exhibition Centre, 14 – 17 July 2022.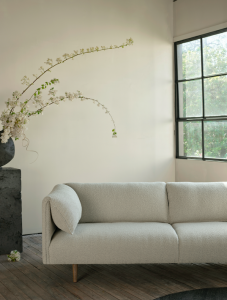 James Stewart's beautifully curated collections of thoughtfully designed styles and top grain leathers make each piece they produce unique and timeless.
Clean lines highlight the honest, natural beauty of the leather, which is handcrafted and fashioned for durability, livability and effortless style.
"As an independently owned business, we believe material quality, craftsmanship and design are important aspects of creating beautiful furniture," says co-founder Susie Wall.
How Leather Can Be a Sustainable Choice
People generally may not associate animal products with sustainable practices. However, it is important to consider that all bovine leathers are a direct biproduct of the meat industry and are therefore classified as a non-determining co-product.
Worldwide meat consumption continues to grow as valuable source of protein. The choice we are faced with is whether to use the hides from animals that are raised and killed for their meat or allow these hides to be burned or sent to landfill.
Where hides are used for leather making, the carbon footprint of the leather manufacturing process is tiny compared to that which is attributed to livestock rearing for its meat.
"The value of craftsmanship and the provenance of our leathers is key to our business," says Susie. "We can tell trace the origin of each hide and which tannery finishes our leathers."
"Our sofa makers are specialists in top grain leather upholstery. Highly skilled leather cutters train over many years to maximise hide yield by acutely assessing how best to cut out the pattern from each unique, irregular shaped hide."
"In practical terms, this all helps cut down on waste. It has always been our focus to create products that celebrate function and the natural beauty of high-quality materials, in place of the superfluous design of mass production."
"The way forward to make better practices in manufacturing is to make better quality products that last longer and truly add value and enjoyment to people's lives."
Discover James Stewart's Timeless Classics 
While trends come and go, there is always the demand for the sensory nature of high-quality, hand-finished leather.
James Stewart's gorgeous ranges manage to be both classic and transitional. Superstar pieces include enduring classic track arm sofas such as the Redford; a modern and yet timeless sofa that suits every interior. The Harrow is perfect for lovers of both mid-century styling and classic tuft detailing, as found in Chesterfield sofas.
The pandemic has seen many of us rethink how we use our homes and offices, with a fusion between the two and an increased demand for stylish and ergonomic desk chairs and furniture which fits more with personal identity and aesthetics. This direction is a match for the James Stewart aesthetic of chic comfort.
The Royce is a fabulous adult's automotive channeled bassinet, promulgating a fun 70's vibe.
The Mason bucket seat office chair provides high level comfort and sharp looks. It's ideal for the home executive with a love of Italian styling.
We can't wait to see what James Stewart bring to Decor + Design in July 2022!
"With new collections and a curated range of designs showcasing our leathers, we will be ready to show and celebrate," says Susie.
"Trade fairs are still a key part of our industry. At the end of the day, we need human connection and human touch."
"It will also be about our products; the way they feel, the story we can bring to life and on show. For those who are also searching for the new experiences in furnishings, we can't wait to share it!"
Don't miss James Stewart at Decor + Design and the Australian International Furniture Fair, 14 – 17 July 2022 at Melbourne Exhibition Centre.
Australia's No.1 Interiors Trade Event will showcase hundreds of exhibitors from across indoor and outdoor furniture, lighting, soft furnishings, textiles, art and more. Entry to the exhibition is free but limited to trade visitors. Register now and start planning your trip! James Stewart Furniture will be at Stand C2.