NEWS: The 2023 Green Design Hub at Decor + Design in July inspired visitors with its showcase of beautiful sustainable products available to the industry right now, as well as new materials and upcoming design industry legislation. We also hope to inspire the industry by transparent tracking of the carbon emissions associated with the Hub.
Designed With the End in Mind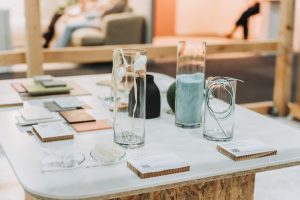 The Hub was curated by Circular Design Thinking with the end in mind. Materials and waste were tracked as the stand was assembled and the waste documented, as was the transport of products to and from the event.
Circular Design Thinking have collated the transport carbon emissions, with 1289kg from NSW, 15kg from Qld and 2701kg from Victoria, equating to 4005kg of carbon for the Green Design Hub 2023.
As1kg means offsetting 0.27kg of carbon, 1 tonne of C02 = 1 carbon credit, equating to 2 carbon credits for the 2023 Green Design Hub.
Due to the minimal emissions the 2 carbon credits have been recorded against the 2023 GDH and will be grouped and offset with our 2024 show. In the meantime we have made a donation to Carbon Positive Australia  for the same amount of these credits, currently sitting at AU$38.50 , so a total $77.00
We hope this commitment to carbon neutrality – as well as the affordability – underscores to the design industry the need for products to be specified as such in the real world.
The 20th anniversary edition of Decor + Design will take place at the Melbourne Exhibition Centre from 17th – 19th July 2024 with the theme of Evolution. Subscribe now to receive updates on exciting new features, as well as news from the wider world of design.