If you want your interior products to travel successfully into the future, there's a high likelihood that you're going to need a Digital Product Passport that will immediately give consumers and regulators a snapshot of what it is made from. Upcoming legislation and a more environmentally-savvy market mean it's imperative to adopt sooner rather than later.
Visitors to the beautiful Green Design Hub at Decor + Design 2023 may have heard about the Empower Product Passport, a digital tool that enables brands to increase transparency within their supply chains, built on the desire to create a better world for people and the planet.
Empower Eco is a leading Norwegian supply chain traceability technology start-up and circular platform company. While they offer different tiers of environmental tracking, the Empower Product Passport can be adopted by brands right now, by inputting data to generate the passport, thus allowing consumers to immediately assess the 'ingredients' of the product. Circular Design Thinking (CDT) is the exclusive partner to Empower in Australia and New Zealand.
The CDT team work with companies such as Space and Cultivated to improve efficiencies and sustainability. Every product exhibited at the Green Design Hub was tracked, so that carbon emissions can be collated and offset at the end of the event.
Great examples are the demo Empower Product Passports for the AH Beard Origins Mattress and the Swan Chair restored by Cultivated, both of which were on display at the Green Design Hub. You can also see a Product Passport in action in the video at the bottom of this article.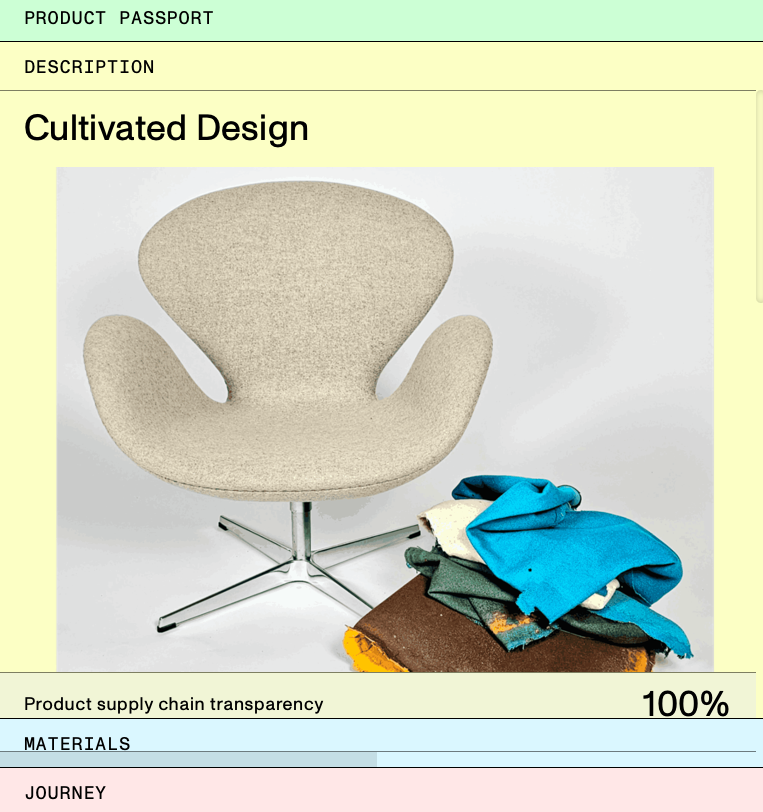 With a sleek visual identity and an easy-to-use interface, the Empower Product Passport will become a go-to tool for brands to increase both their own and customers' awareness of their production and supply chains.
Here are the three key reasons you need to be thinking about setting up Empower Product Passports for your brand right now!
#1: Enhance Your Supply Chain Traceability and Streamline Processes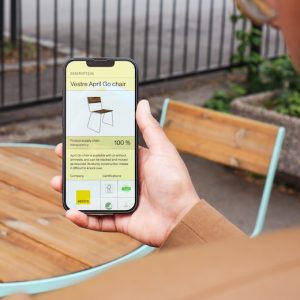 An Empower Product Passport will kickstart the journey towards enhanced supply chain transparency and allow you to understand the environmental impact your products are having. It is the first step towards total tracking and transparency, regardless of where you are at right now.
You can also bolster your accountability by linking it to Empower Tracking, which takes it to the next level for long-term sustainability and provides a clearer picture of environmental impact.
It's also good for business. Vivek Suri from Circular Design Thinking, a highly experienced executive in operations and global supply chain management, says that the Empower Product Passport "has the ability to streamline processes and drive both financial and sustainable improvements for business."
#2: Build Trust With Customers
"You cannot tell a story without something tangible. Those days are gone," says Vivek.
The Empower Product Passport is a visually beautiful way to tell a story. With an intuitive interface and streamlined process, users can effortlessly map their supply chains, identify data gaps, and take proactive measures to address any shortcomings. The user-friendly backend (right) enables businesses to create comprehensive Product Passports in a matter of minutes.
Presenting your sustainability efforts in a visually pleasing way will be beneficial to your business and help build trust with customers.
#3: Future proof for Compliance
There's no doubt that sustainability auditing will significantly amp up in the coming decade. The Australian Government is currently in discussions to bring Digital Product Passports into force nationally by 2028, tracing the full life cycles of plastic, glass and other materials that can be recycled, so that people know where their products come from and where they are going.
"Change doesn't come because something is a nice idea and a good thing – it generally comes when it is driven by the Government," says Vivek. Getting set up with an Empower Product Passport and activating Empower Tracking will ensure that you are ahead of the curve and ready for upcoming legislation.
What are my next steps?
For more information on Empower Product Passports, get in touch with the team at Circular Design Thinking (CDT) by emailing empower@circulardesignthinking.co
The CDT team will talk you through the fundamentals and give you a complimentary demo of the product. You can also click on the video below to check out how the Product Passport functions in practice.
The future is coming whether you're ready for it or not. Start optimising for both the planet and your business operations today.