Clear your calendar and start auditing your wardrobe! We're delighted to announce that Decor + Design, Australia's No.1 Interiors Trade Event, will return to the Melbourne Exhibition Centre from the 15th – 18th July 2021.
This much-anticipated event is the industry's chance to reconnect in person, make valuable new business contacts and showcase the latest collections to trade visitors from across Australia. We'll be back with a vibrant new design for the Trends Champagne Lounge, the inspiring AH&G International Seminar Series and VIVID Design Awards, plus leading exhibitors from across the interiors and furniture spectrum.
Co-located with the Australian International Furniture Fair (AIFF), Decor + Design is Australia's most important buying destination for indoor and outdoor furniture, soft furnishings, homewares, art, textiles and lighting.
It's also a key networking event on the annual design calendar. Due to the pandemic, the 2020 event took place virtually, harnessing the latest exhibition software to connect the industry and allow people to do business remotely. The return to a physical event in 2021 will leverage this increased online functionality to allow exhibitors and visitors to start networking months before the event, and schedule face-to-face meetings for July.
With a refreshed aesthetic for 2021, this will be the 18th edition of Decor + Design, which has been an essential launchpad for many of Australia's most successful designers and interiors brands.
Growing market confidence for 2021
2020 will be a year none of us forget.  While the international pandemic and political turmoil induced pandemonium in the first quarter, in many ways the challenges of this year have shown us what we're made of.
Australians pulled together with the Government to fight Covid and support our communities, achieving tremendous health and economic results in comparison to worldwide benchmarks. Market confidence has been boosted by national Covid numbers staying close to zero and restrictions easing, plus the global announcement and planned rollout of the 95% effective Pfizer vaccine. That makes July '21 the perfect time for Decor + Design and the Australian International Furniture Fair (AIFF) to make a physical return home to the Melbourne Exhibition Centre.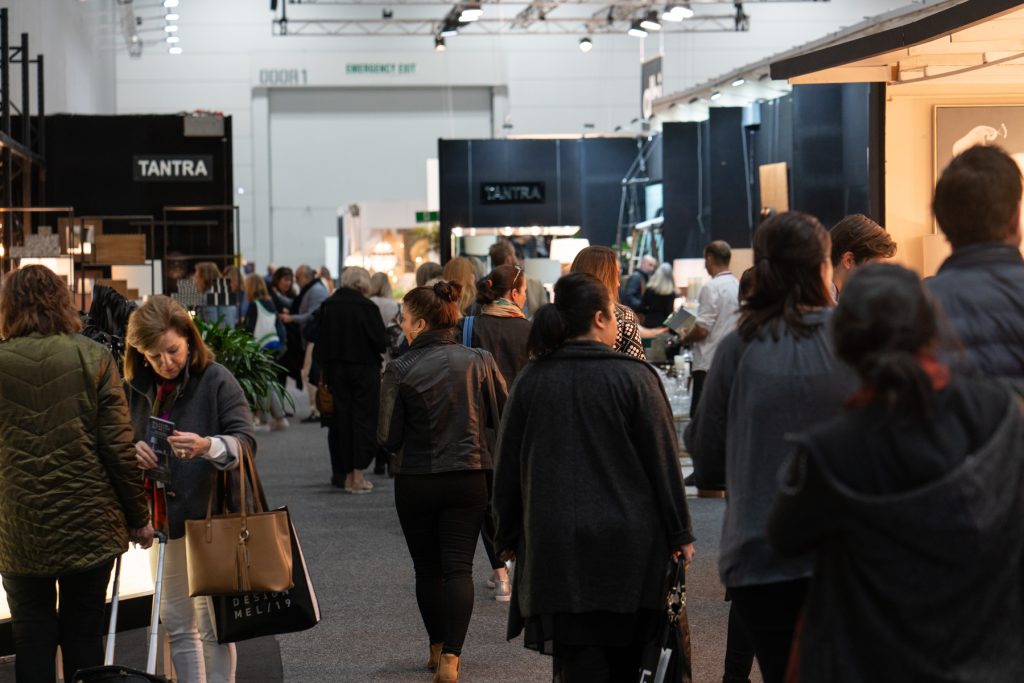 Let's get the design industry back to its best!
 This was also a year when the design and furniture industry basked in new appreciation. As we locked down in our homes around the world, investing in interior design or new soft furnishings no longer seemed a frivolous luxury. The ways our homes and belongings can impact our mental health became glaringly obvious and an ever-present consideration, positioning our residences as either havens…or prisons.
Decor + Design 2021 will celebrate Australian interior design and furniture in fresh, fundamental ways. Our refreshed look and feel will include a redesigned Trends Champagne Lounge and Seminar Theatre, where you can make valuable new business contacts and hear from leading experts and influencers in design at the Australian House & Garden International Seminar Series.
If you're hungry for inspiration now, you can still purchase a Virtual Master Pass to watch the 2020 virtual program 'on demand'. Featuring international design superstars Nate Berkus, Kit Kemp, Abigail Ahern, Martyn Lawrence Bullard, Bobby Berk, Greg Natale, David Flack and more, you can watch the exclusive presentations online until the end of the year. Victoria Redshaw's 2021 Major Trends Forecast is essential viewing for those who are looking to get ahead of the design curve.  View the full program here.
Don't miss an experience for the senses
 We believe 2021 will be about immersion, experiences and reawakening our senses.
Exhibitors at Decor + Design will be showcasing their latest collections to visitors eager to touch and feel products – something that we've all sorely missed this year.
Saluting and promulgating Australian design is a key part of our ethos. A special area of the show – 'Homemade' – will be reserved exclusively for Australian made products. This will be situated next to the VIVID Design Awards, Australia's longest running competition for emerging designers, creating a large space at the show which celebrates Australian design.
We'll also be launching the Sustainability Hub in 2021. This will be an interactive, design-led installation that explores the latest in conscious design. Discover new materials for interiors that eliminate waste, look stylish and make clever use of the unexpected.
Safety will always come first
We're ready for anything. Rest assured that the most stringent hygiene measures will be in place at the 2021 show, in line with the 'new normal'. Decor + Design is owned by Informa Australia, part of the world's top events and business intelligence company, Informa Plc. That puts us at the forefront of the latest protocols, and we're established as global leaders in safety and best practice.
Get behind the Australian design and furniture industry in 2021, at the industry's longest running trade event, Decor + Design. Immerse yourself in the world of design and be inspired.
For more information on exhibiting at Decor + Design, register here and we'll be in touch.
If you'd like to be notified when free trade visitor registration opens and receive the latest news from the design world, subscribe now via the box at the top of this page.