'Tis the season to be decorative! 2021 has been rather a slog for everyone, wouldn't you say? However, there's no doubt that the challenges of this year will make Christmas incredibly special. We're looking forward to a December full of delectable food, indulgent Martinis and longed-for reunions with family and friends!
Of course, a fundamental part of Christmas is thoughtful gifting. If you're buying for someone stylish with a love of interiors, take a look at these pieces from some of our favourite exhibitors at Decor + Design, Australia's No.1 Interiors Trade Event. The show will return after a hiatus in July 2022 at the Melbourne Exhibition Centre, co-located with the Australian International Furniture Fair (AIFF).
Kave Home Australia
Founded by Francesc Julià in Spain and formerly known as LaForma, Kave Home has become known for its quality and 'Barcelona Living' aesthetic. Julià started as a lathe operator and his knowledge of turning furniture and his entrepreneurial vision made him see the potential of the furniture field.
The company has since become a top name in international furniture design, manufacturing and distribution, with a presence in more than 80 countries. All Kave Home's furniture is designed and then manufactured in-house, with a dedication to sustainability.
Kave Home has become a regular exhibitor at Decor + Design and the Australian International Furniture Fair. In addition to their exquisite furniture, Kave Home also have a beautiful line of home accessories – perfect for gifting this festive season! We love the 'Mode' basket, perfect for storing a throw rug or magazines.

Lara Scolari Gallery
Lara Scolari is one of Australia's most exciting emerging contemporary visual artists. Her gestural paintings are making a serious splash on the international art scene.
"I have learnt not to get too caught up in the outcomes but to just let the process happen and the magic will come". – Lara Scolari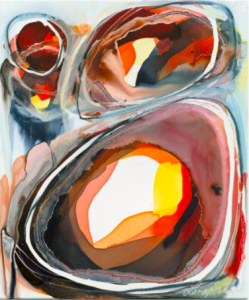 Scolari makes exquisite statement artworks for architects, interior designers, home owners, stylists and decorating professionals that enhance and complete a space. She will be exhibiting at Wall Street at Decor + Design and the Australian International Furniture Fair in 2022, which is a dedicated area for surface artists.
Thinking of gifting an artwork for Christmas? We love Scolari's piece Stick Picking at Yethera.
In Mixed Media, it engages with the viewer through gestural shapes and layers of ink which echo the sentiments of communities farming the land. The earthy palette is comprised of Burnt Sienna, Red Oxide, Payne's Grey, Yellow Oxide, Orange and White.
L & M Home
Founded in 2000 and previously known as Linen & Moore, L & M Home has become a Mecca for stylish collections of home accessories, bed linen, table and bath. They focus on natural materials rich in texture and character and work with artisans around the world from their base in Melbourne, telling stories of craftsmanship and creativity. We can't wait to see their collections in 2022.
L & M Home work across both the wholesale and retail sectors, and have an extensive online store. For Christmas, their selection of high-quality throws is hard to go past.
We particularly love the Empire Earth Throw, part of L & M Home's Empire range which features a beautiful scallop design in tones of natural, umber and earth. These unique cushions and throws are hand loomed from 60% pure wool and 40% Tussar silk.
Tussar is known for its distinctive gold lustre and rich, uneven texture – a result of the manufacturing process being entirely by hand, making each piece subtly different from the next.
Bisque Interiors
Founded in 2000 by husband & wife team Kathy and Ralph Brauer, Bisque Interiors have become a favourite exhibitor at Decor + Design and the Australian International Furniture Fair (AIFF).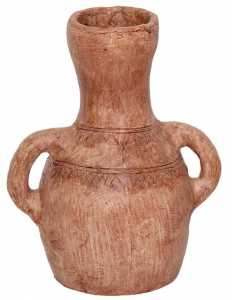 The company was started as a result of Kathy's passion for homewares, combined with their mutual love of travel. This combination has lead to the relaxed, unstructured, global look that Bisque has become known for around the world as a leading brand in homewares and fashion.
When it comes to gifts, we just adore this Terracotta Jug, made in Indonesia and available in 3 different sizes.
See Kave Home, Bisque Interiors, L & M Home and Lara Scolari Gallery at Decor + Design and the Australian International Furniture Fair (AIFF), 14 – 17 July 2022.
Subscribe now to receive updates on when registration opens, plus updates from the global world of design.