Australia's premier trade event for the interiors industry, Decor + Design, is returning to the Melbourne Exhibition Centre from 13 – 16 July. An important annual networking and buying destination for interior designers, decorators, architects and retailers, we are delighted that visitor favourite About Space Lighting will be returning to exhibit at Stand C32.
About Space Lighting will also be providing beautiful lighting for the Champagne Lounge and Seminar Theatre at Decor + Design. The Seminar Series will be brimming with inspiration from influential designers including Akira Isogawa, Brahman Perera, Adelaide Bragg, Charlotte Coote, Bree Leech, Kerrie-Ann Jones, Jamie Durie and more. The Champagne Lounge is a central hub where visitors can relax and network in a stylish environment.
In the lead up to the event, we spoke to About Space about what inspires their beautiful designs, plus what visitors can expect to see at the show this year.
Can you tell us more regarding About Space products and your design aesthetic?
At About Space Lighting we take immense pride in our exceptional collection of new, original and European designs. We are committed to discovering the ideal lighting solutions for each individual space by offering and creating customised masterpieces. With our in-house team of talented designers specialising in crafting bespoke lighting, we ensure that every detail is tailored to perfection.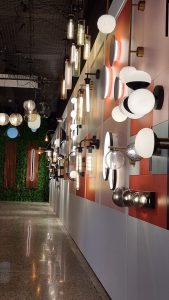 Further, we are lucky enough to bring an exclusive collection of European products to our clients, which showcases the finest designs from Italy and Spain. By incorporating the best of Italian and Spanish influences, we bring a touch of elegance and sophistication to our valued clients.
We continuously position ourselves at the forefront of design trends. By staying ahead of the curve, we guarantee that our clients have access to the most innovative and cutting-edge lighting options available.
Who are your main clients?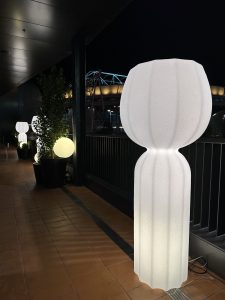 At About Space Lighting we have the pleasure of collaborating with a diverse range of individuals, brands, and companies
who all share a profound appreciation for design and lighting. Our extensive network includes interior designers, architects, and builders who rely on our expertise to elevate their projects with exceptional lighting solutions.
Not only do we cater to professionals in the industry, but we also have the privilege of working closely with residential clients. We understand the importance of bringing exquisite lighting into the homes of many, creating spaces that exude warmth, style, and sophistication.
Whether it's a commercial venture or a personal sanctuary, we take pride in our ability to transform any environment into a visually stunning and well-illuminated masterpiece.
What's 2023 been like for the brand compared to last year? Can you share some exciting projects that you've worked on recently?
Being only halfway through 2023, we are blown away by the remarkable growth we have experienced so far this year. One of the most exciting highlights as of late was the opening of our newest showroom in Canberra (pictured in top image of article), offering our clients a captivating space to explore our exquisite lighting offerings firsthand.
Earlier this year, we received a prestigious invitation to showcase our designs at the renowned Euroluce Design Show in Milan, Italy. It was an incredible opportunity for us to present our innovative creations to a global audience, cementing our collection to a worldwide audience.
While we have been making waves internationally, we haven't forgotten the importance of cultivating a strong and vibrant culture right here at home. At About Space Lighting, we believe that our people are the cornerstone of our success. Their dedication and talent are the driving forces behind our achievements. By investing in our people, we are ensuring a bright future filled with even more remarkable accomplishments.
We're delighted that you will be exhibiting in 2023 at Decor + Design in Melbourne, as well as 'dressing' the Seminar Theatre and Champagne Lounge with lights! What can visitors expect to see at your stand this year?
Prepare to be warmly welcomed by our enthusiastic team as you step into our stand. Their passion for interior design and lighting is contagious, and they can't wait to share their knowledge and showcase lighting collection.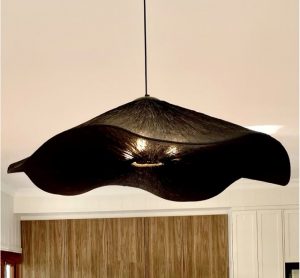 Alongside an array of our latest products, we will also showcase a carefully curated selection from our originals collection. This year, our stand will shine a spotlight on European design, bringing you the epitome of elegance and refinement from renowned Italian and Spanish influences. Immerse yourself in the allure of European aesthetics and discover how these designs can transform your space into a sanctuary of beauty.
Sustainability takes centre stage as we proudly present our collection of environmentally conscious designs. Showcasing the use of recycled materials and harnessing the power of LED technology, we aim to demonstrate our commitment to creating lighting solutions that are both visually stunning and functional.
Don't miss the opportunity to visit About Space at Stand C32, where the team will be more than thrilled to engage in meaningful conversations about your upcoming projects. Let us understand your vision, offer expert advice, and guide you towards selecting the perfect lighting solutions that will elevate your space to new heights.
Register now to visit Decor + Design, Australia's premier event for the interiors industry, 13 – 16 July at Melbourne Exhibition Centre. Entry to the exhibition is free but limited to trade visitors.