Tim Street-Porter is one of the world's most recognised architectural photographers. With an enviable career spanning four decades, the charming Englishman has shot for the most renowned design titles, plus published an enviable number of stunning books; either alone or in collaboration with other design experts, including his wife Annie Kelly.
From his luxurious tome L.A Modern to Palm Springs: Modernist Paradise, many of these gorgeous books are a paean to Tim's adopted state of California.
His most recent collaboration is with Hutton Wilkinson, the business partner of the late design icon Tony Duquette. Published by Abrams, Tony Duquette's Dawnridge profiles the extraordinary house Duquette built in Beverly Hills, which interior designer Wilkinson extended after buying the property upon Duquette's death in 1991. The book is a decadent, lush voyage through a property that is a universe unto itself, living up to Duquette's edict that "more is more."

The photographer brought his rich knowledge of design and architecture to the Decor + Design show in Melbourne in 2016, delighting visitors with his spectacular photography of homes across the world.
We spent five minutes with Tim to probe his own design inspirations and find out what's in store for 2019.
How would you define your own preferred interior design style?

I like a naturalistic look with an eye for a graphic composition, and lighting is very important.
You've worked all over the world. Who are your favourite interior designers?
My fave interior designers are Juan Montoya, Jean Louis Deniot, Robert Couturier and Martyn Lawrence Bullard.

If you had to pick one item from your home, what piece of furniture or decoration would define you?
The Garouste and Bonetti bronze flame sconces in our living room, which I bought in New York many years ago.
If you could live in anyone's house, whose would it be?
John Lautner's Silvertop, perhaps his best house and recently restored, overlooking Silverlake in Los Angeles, and which I recently photographed.
What projects are coming up for you?
I am beginning to work on a new LA decorating book with my wife Annie Kelly, and we have our swimming pool book, 'Splash, the Art of the Pool' coming out in the Spring. Also I will be beginning work on a follow up to my earlier book on Los Angeles, which came out a few years ago as a limited edition. All these published by Rizzoli.
In addition I'm very happy with another book I shot for Abrams – Tony Duquette's Dawnridge, and which was published in August.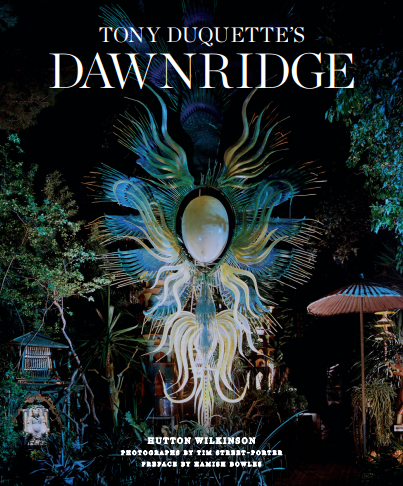 Lots of books in other words! Plus my other work for architects and designers. I should also mention that Annie and I are now also working on a book on Australian Mid Century modernist houses…
Tony Duquette's Dawnridge is now available to buy in Australia from all good booksellers
The 2019 Australian House & Garden International Seminar Series at Decor + Design will once again feature thought leaders from the world of design. Subscribe now to receive updates on the program and be notified when visitor registration opens.