Every December, the world's leading colour authority announces a colour that best encapsulates the mood and aesthetic of the coming year. Pantone's Colour of the Year for 2023, Viva Magenta, is bubbling over with passion, signifying strength, fearlessness and a new narrative.
Viva Magenta 18-1750 is a shade rooted in nature, descending from the red family. It encourages joy and optimism, plus self-expression without restraint. It is a statement colour, exuding a rebellious spirit and zest for life.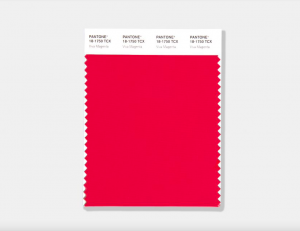 Leatrice Eiseman, CEO of Pantone, says that in this age of technology, we look more to nature to keep a handle on what is real.
"Viva Magenta descends from the red family, and is inspired by the red of cochineal, one of the most precious dyes belonging to the natural dye family, as well as one of the strongest and brightest the world has ever known."
There's no doubt that there's something primordial about Viva Magenta, reconnecting us to our base natures. This colour is a conduit to tapping into our inner strength and making new connections.
Explore the Magentaverse

A strong colour can be more challenging to work with than a neutral. Pantone have also devised a palette of colours that complement Viva Magenta.

We love 'Plein Air' Blue, which is a close match to Dulux's 'Breezy Half' Blue. The latter has been selected as the hero colour  for Decor + Design and The Australian International Furniture Fair (AIFF) in 2023.
Breezy Half Blue will be seen throughout the show, complemented by colours from the Dulux 2023 Revive palette. Playful and healing, this palette taps into a similar dynamic as Viva Magenta. 2023 is a year for growth and adventure. The past few years have proved our resilience – now it's time to play.
We'll definitely be stepping up to the plate in 2023. The theme for Decor + Design 2023 is Elevate, with an increased focus on Australian Made and socially conscious design. Subscribe now to stay in the loop on the latest trends from the world of design and be notified when trade visitor registration opens for the 19th edition of Decor + Design, 13 -16 July at Melbourne Exhibition Centre.