The standard at VIVID Emerging Designer Awards at Decor + Design 2023 was unbelievably high. So much so that the prestigious industry panel of judges unusually selected joint winners of the Furniture Design Award – Georgie Zymanski's Light Chair and Melvin Josy's Vallam Seat.
Celebrating its 20th anniversary this year, VIVD is the longest running design competition in Australia and has helped launch the careers of notable designers including Nicole Monks and Ed Lineacre.
Originally from Kerala, India, Melvin Josy (left) draws from his rich heritage, interweaving stories for cross-cultural knowledge sharing.
Vallam Seat is inspired by traditional boat-building techniques  in the backwaters of Kerala. Kettu Vallam or sewn boats are made from light timber stitched using natural fibre.
We sat down with Melvin to unpick the threads of his creative process and also find out what the VIVID Furniture Design Award means to him.
Melvin, what has your journey entailed to become a designer maker?
Growing up in a small town in Kerala, India, I discovered my passion for art during my school days. One of my art teachers introduced me to the world of design. Following this interest, I enrolled in the National Institute of Fashion Technology in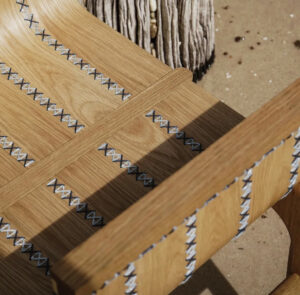 New Delhi for my bachelor's in design. Even though I focused on furniture, lighting, and objects, I was intrigued by various design disciplines, including graphic design and spatial planning.
In 2020, I decided to pursue my post-graduation in Design at UNSW Sydney, Australia. This academic program shifted my focus from the tangible aspects of function and form to a more research-based, conceptual understanding of design. While I enjoyed the conceptual side, I yearned for hands-on creation opportunities.
Fortunately, one of my mentors introduced me to the Jam Factory Associate program. Recognising its potential to help me acquire new skills and immerse myself in the Australian design scene, I applied and was accepted. I relocated to Adelaide after completing my post-graduation studies in 2022.
The transition was challenging, but I was fortunate to find excellent mentors at Jam Factory who helped me build confidence in my craft. I relish the creative freedom of being a designer-maker, allowing me to explore new methods of creation and experiment with materials.
How would you describe your approach and aesthetic?
As I mentioned earlier, I enjoy conceptual and research-based design. I believe the things we create have deeper meanings beyond their function and aesthetic. Often through a narrative-based approach, I try to create things that explore the relationship between humans, culture and nature. I find it rewarding when the process, materials and aesthetic complement the concept and narrative I am trying to convey.
One of my favourite frameworks in design is to reimagine traditional techniques with modern materials and technology, making age-old practices relevant to the contemporary world. The rich craft and making culture of India which I experienced is a valuable inspiration for me in this process. Through my creative practice, I aspire to promote cross-cultural knowledge sharing to spark curiosity and facilitate critical conversations about materials and objects we interact with.
Your Vallam Seat received the joint 2023 award for Furniture Design, as well as the Authentic Design Alliance (ADA)Award of Merit. Can you tell us about the ideation and creation of this piece?
The Vallam Seat (left) is part of a series of objects I've been developing over the past few years. The core concept behind this series involves utilising the traditional boat-making technique known as 'kettu vallam*,' a method I'm familiar with from my paternal hometown in Kerala, India. I found the construction method fascinating, particularly the timber stitching used as a joining technique. The initial iteration of this concept took shape during my studies at UNSW.
Researching the origins of this technique deepened my fascination, uncovering its historical and social significance. During my time at the Jam Factory, I decided to spend my skills and time to refine the design. This resulted in an enhanced version that drew inspiration from maritime object typology, incorporating the stitching technique. The laminated timber panels are stitched together with cotton yarn dyed in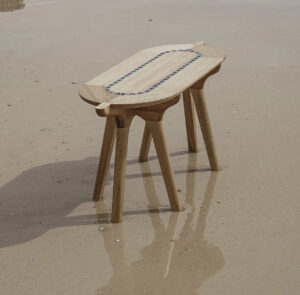 indigo.
This project was pivotal for my practice, originating from a deeply personal story and evolving into a creation that embodied the theoretical frameworks I aimed to express in a tangible form.
*Kettu vallam or sewn boats are used in the backwaters of Kerala. in this method the light timber is stitched using natural fibre – coconut fibre and coir.
What current projects are you working on? What's next?
I've been refining the Vallam project and expanding it into a furniture and lighting collection. Trying to create experimental forms and advancing the technique
Recently, I presented a project called 'Hysteresis' for Sydney Design Week, which delves into the use of tyre rubber while examining its history and social impact. This project draws from my childhood memories and familiarity with natural rubber plantations.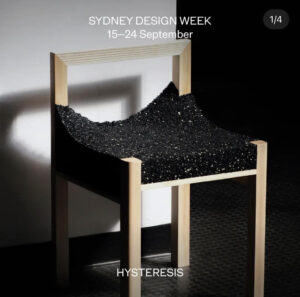 I'm excited about further developing both these projects and am constantly seeking new narratives to explore!
Finally, why are the VIVID Emerging Design Awards important for new designers?
"VIVID is a significant stepping stone for anyone committed to design in Australia—an ideal space to connect with fellow designers on similar journeys. A welcoming community where you can share and learn about each other's practices."
It was impressive to find such a diverse range of approaches in design and making in one space. It's definitely a valuable opportunity to identify where your practice fits in the emerging Australian design fraternity.
VIVID Emerging Designer Awards will return to Decor + Design in 2024, with applications opening in March. Subscribe now to receive updates on VIVID as well as Decor + Design Evolution, which will celebrate iconic Australian brands and emerging green design.