We are delighted to announce that well-known interior designer Adelaide Bragg will be speaking at the 2022 Decor + Design Seminar Series in July.
Decor + Design and the Australian International Furniture Fair – Australia's largest and most important trade events for the interiors and furniture industry – will be back at the Melbourne Exhibition Centre from 14 – 17 July, returning after a 'pandemic sabbatical' of three years.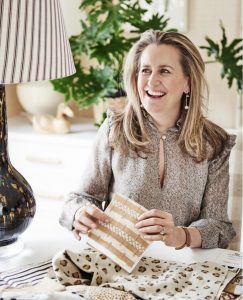 It will be a crucial platform for the design industry to come together again and see the latest collections from around 250 exhibitors, plus be inspired by the best in Australian design. We'll be celebrating the latter at the Seminar Series with 'A Masterclass in Australian Design', featuring Adelaide and a host of other influential designers. The full program will be released in April.
Timeless Interiors that Exude Warmth
For thirty years, Adelaide Bragg has created beautiful, timeless interiors that still possess colour, warmth and tactility.
Originally from Sydney, Adelaide moved the business to Melbourne in 2003 and her studio Adelaide Bragg & Associates is firmly established as a go-to for bespoke, end-to-end interiors across Australia. With extraordinary private projects across the country, Adelaide has brought interiors to life with her magical touch.
A strong, classical foundation forms the basis of all of Adelaide's projects, each space designed to evolve over time with the addition of fresh fabrics and lived-in layers.
Adelaide also has the ability to create an emotional connection with everything she touches, showcasing family heirlooms and treasured collections. Her interiors welcome life: a big family gathering, a dog on a sofa, a whisky by the fire, or a quiet moment in a window seat. All are accommodated in her generous style that conveys joie de vivre.
See Adelaide Bragg talk at the Decor + Design Seminar Series in July, for a special insight into Adelaide's design perspective and how she goes about creating classic Australian interiors that will stand the test of time.
The 2022 Seminar Program will be 'A Masterclass in Australian Design'. Along with Adelaide, see legendary designers Collette Dinnigan, Jamie Durie, Shaynna Blaze, Cameron Kimber, Anna Spiro and many more. View the full program now and start planning your trip to Decor + Design!